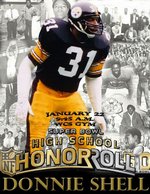 Donnie Shell Super Bowl Honor Roll
Super Bowl Honor Roll celebration will be held at WCS on January 29, 2016 at 9:45 am in the WCS Gym. Whitmire's own, Donnie Shell, will be honored in a school assembl highlighting his career as a Wolverine, South Carolina State Bulldog, and Pittsburg Steeler. This program, sponsored by the NFL, is designed to link the past 49 Super Bowls to this year's game and honor the players, head coaches, high schools, and communities that have positively impacted the game.
The community is invited to attend this celebration and a special invitation goes out to all of Donnie's former teammates, classmates, teachers, and family members.
For more information about the SUPER BOWL HONOR ROLL:
http://www.nfl.com/news/story/0ap3000000524521/article/league-launches-super-bowl-high-school-honor-roll